French Bulldogs are expensive dogs. In the United States, Frenchies typically cost between $1000 and $5000, although the price can be much higher.
Upon discovering their high price tag, many people wonder why these little dogs are so expensive.
In the article below, you'll learn 8 key reasons why Frenchies are so expensive.
Check this out: Here's Why French Bulldogs Fart So Much
How Much Should I Expect to Pay for a French Bulldog?
There are several factors that you need to consider when it comes to buying a French Bulldog.
Country and region
Pedigree
Coat color
Gender
8 Reasons Why French Bulldogs Are So Expensive
There are many reasons why Frenchies come with such a high price tag. Here, we have listed the 8 reasons French Bulldogs are so expensive.
1. You're requesting a specific gender from the breeder
If you want a specific gender, you may end up paying more. Males and females typically cost the same amount.
However, a breeder with higher demand for one gender over another may charge more for gender requests. That's because they cannot control how many boys and how many girls are born in each litter.
2. The Frenchie has a rare coat color
The color of the dog's coat plays a huge role in the cost. For French Bulldogs, the rarest coat color is called "Isabella."
This coat involves a golden-yellow body with brown hairs around the dog's eyes and ears with a dark brown or black muzzle.
Other rare colors may cost more, as well. These include blue, lilac, merle, sable, blue and tan, chocolate, and black. You can save money on a French Bulldog if you aren't as particular about their coloring.
3. French Bulldogs are difficult to breed
Frenchies have bodies that aren't really good for reproducing. The females have a narrow pelvis, yet the puppies have very large heads. That means veterinary intervention is almost always required.
Since they also struggle to conceive, breeders often have to rely on artificial insemination. This process can be quite expensive.
4. They have small litters of puppies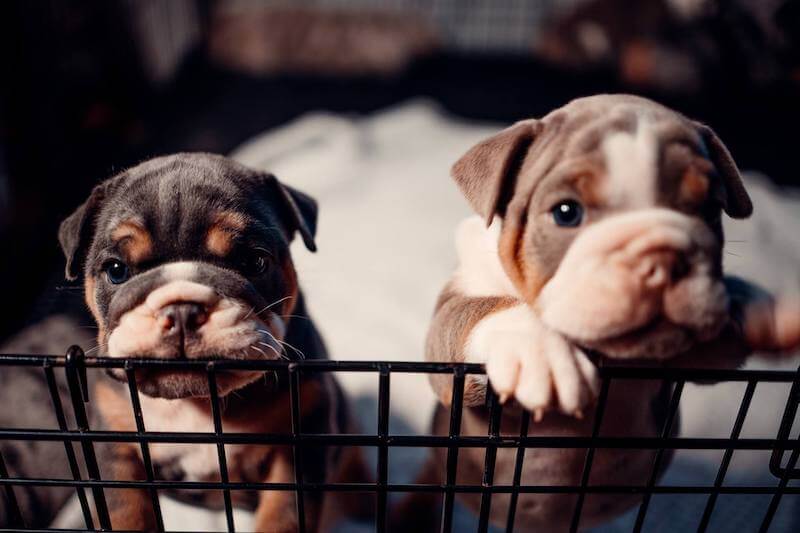 Most dog breeds produce litters of 6 to 8 puppies. However, French Bulldogs usually only give birth to 2 or 3 puppies.
In rare cases, they give birth to as many as four puppies. When larger litters occur, not all the puppies survive.
Check this out: Merle French Bulldogs (Rare, Exotic, and EXPENSIVE)
5. Pregnant Frenchies have expensive nutritional demands
Pregnant dogs (of any breed) require a high protein diet to help them carry and nurse their puppies. Because the protein-rich diet is expensive, the price is factored into the price of puppies.
6. They often require post-birth veterinary care
Since most French Bulldogs have C-section births, they require special post-birth care. They require prescription pain medication and careful observation.
While much of the observation and care can be done by the breeder, medical intervention may be necessary if complications occur.
The puppies also require checkups from the veterinarian. This includes vaccinations, microchipping, and other treatments.
7. The mother and babies cannot be left unattended for the first 5 to 7 days
French Bulldogs are often sluggish after giving birth, largely because of the medication used to treat their pain after a C-section. They are more likely to roll onto puppies and harm them, requiring constant attention.
8. There's a low supply and high demand for the breed
When the supply of a product is low or the demand is high, something's cost increases. In the case of French Bulldog puppies, both are true.
Breeding difficulties mean that supply is low. The demand for these cute pups means the market demand is high. That leads to higher prices.
Wrapping Up
Breeding French Bulldogs costs a lot of money compared to other breeds which explained their steep price tag.
Now that you have all the information, you need to consider whether paying that kind of money for a French Bulldog is worth it.
If you rather not spend that much money on a dog, there are many other similar breeds that'd make a perfect companion.