Finding reputable French Bulldog breeders has become quite challenging in today's landscape.
French Bulldogs have gained immense popularity, capturing the attention of celebrities, influencers, and everyday families.
Unfortunately, this surge in demand for French Bulldogs has opened the floodgates for a rise in online scams and unethical breeding practices.
As a result, individuals and families who are genuinely interested in welcoming a French Bulldog puppy into their lives face heartbreaking situations.
But we're here to help.
We'll discuss why finding a reputable French Bulldog breeder is important, questions to ask your breeder, and what to expect.
From finding a breeder to bringing home your new Frenchie puppy, we'll help you every step of the way.
In this article:

Why Is It Important to Find a Reputable French Bulldog Breeder?
Choosing a reputable French Bulldog breeder is important since you want to support healthy, well-bred Frenchies rather than supporting puppy mills or breeders who are only interested in making money.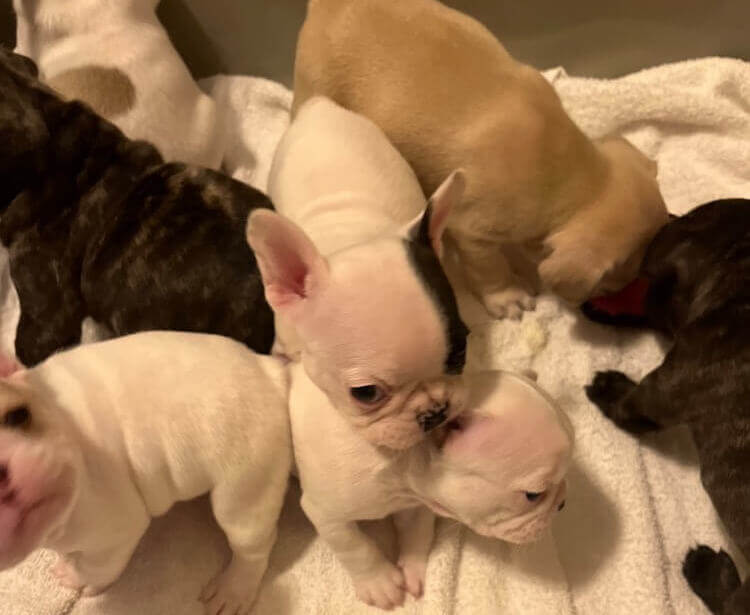 Breeding for selfish reasons can result in Frenchies with poor genetic compositions and suffer as a result.
French Bulldogs are already a brachycephalic breed of dog that is known to have health complications in itself.
Brachycephalic is another way of saying the dog has a flat, squished face. This can cause difficulties with breathing and a slew of other health problems. 
A reputable breeder should be working towards ensuring their dogs have a long enough snout that they can breathe properly.
By supporting only these breeders, we can help reduce the number of unethical breeders and the number of poorly bred French Bulldogs who can't breathe properly.

How to Find a Reputable French Bulldog Breeder
Now that you know why finding a reputable French Bulldog breeder is important, it's time to walk you through the step-by-step process of finding one.
Start Your Search Online
The easiest place to start is to turn to the internet! In your search engine, look up various phrases like "Ethical French Bulldog breeders" or "Reputable French Bulldog breeders."
Take a look at their website and social media closely.
Does it look professional? Are there plenty of pictures with various backgrounds? Is there a lot of information about the breeder's history and their dogs and puppies?
These are all questions to ask yourself when looking at a website.
It's also usually best to avoid any breeder offering to ship puppies nationwide or internationally.
A reputable breeder will likely want to meet with the adopters directly and will not want to ship their puppies unaccompanied.
There should also be a very clear way of contacting the breeder, whether directly through the website, a phone call, or an email. 
Talk to Your French Bulldog Breeder on the Phone
Another important step is having a thorough conversation with the breeder you are potentially interested in purchasing from.
Because ethical breeders do not solely breed for profit, your potential breeder may have another full-time job.
However, they should not claim to be so busy that they aren't willing to take the time and share more information about themselves.
You can get a really good feel for someone by speaking to them on the phone.
A breeder should be excited to talk about their dogs and their breeding operation, and you'll be able to hear the passion in their voice by talking on the phone.
This way, too, you'll be able to ask any question you may have of your breeder. There are quite a few questions to ask breeders that can help root out the good from the bad.
Questions to Ask Your French Bulldog Breeder
When you talk to your potential breeder, some key questions can help you make an educated decision about your breeder.
You'll want to find someone who is passionate about the breed and wants to find good homes for their puppies.
Do the parent dogs have any health concerns?
Are the parent dogs over two years of age?
Do the parent dogs receive regular preventative veterinary care?
Can I meet the parent dogs and the entire litter?
How are the puppies socialized?
What is the dogs' family history? (how long have parents and grandparents lived, what have they passed away from, etc.)
What veterinary care and vaccinations have the puppies had or will the puppies have by the time they go home?
Do you perform any genetic testing on the parents or puppies?
Are there any health guarantees for the puppies or guarantees against certain inheritable conditions?
What's your AKC registered Kennel Name?

Signs of a Legitimate French Bulldog Breeder
A good breeder will always screen potential adopters. If your breeder doesn't have any questions for you, that is undoubtedly a red flag.
Some questions you might be asked include the following:
Where is your home located?
Do you live in an apartment or a house?
Do you own or rent your home?
If you rent, can you provide your landlord's contact information?
Do you have children in the home?
Do you have other pets in the home?
Do your other pets receive regular veterinary care and preventative care like vaccines?
What is your veterinarian's contact information?
If you own a home, is your yard fenced? If not, how do you plan to let the dog out to exercise and potty?
Will you be training the dog yourself, or will you be attending training classes?
What made you interested in this breed?
What is your backup plan in the event of major life changes such as divorce, moving, death in the family, etc.?
Review Your French Bulldog Dog Breeder Contract
A good breeder will always have a detailed contract that you can see before giving the breeder any deposit.
Contracts should include a clause about taking the puppy or dog back for any reason and at any time to ensure their dogs don't end up in shelters.
A reputable breeder will also offer a warranty or guarantee on the puppy's health at the time of sale or guarantees against inheritable diseases.
French Bulldogs are not cheap, so it's important to never put down a deposit on a puppy without first viewing a contract.
Trust Yourself
Unfortunately, in the world of dog breeding, there are many scams and disingenuous people who don't care about dogs and just want to make a quick buck.
They might make big, bold claims on their website that seem too good to be true. Or maybe they aren't willing to talk to you on the phone and only want to communicate online. Do they offer to ship their puppies?
Many reputable breeders will not offer shipping and will expect adopters to come from wherever they are to collect their new puppy. If it just seems too good to be true, it likely is. Moreover, if something feels off, it probably is.

French Bulldog Breeder Has Limited Puppies
One good indicator of a reputable breeder is if they only have one to two litters a year, depending on how many dogs they have.
If they have a huge operation with puppies always available, it is a likely indicator that the breeder is either operating a puppy mill or is purely breeding for profit.
It's likely a good breeder will only have a limited number of puppies available and more likely that they will have a waitlist for people to sign up for and make a deposit on a future puppy.
French Bulldog Breeder's Veterinarian
A good French Bulldog breeder will have only one veterinarian who works with their Frenchies and knows their history.
A good breeder will share their veterinarian's name and number with you so you can call and ask for a reference about the breeder and so you can call to confirm the puppy's and the parent's care.
It's best to find out from both the breeder and the veterinarian what kind of care the puppy has received, especially in regard to vaccinations and flea, tick, and heartworm preventative.
Check Out Reviews
The French Bulldog breeder should be able to easily provide past references. Some may post reviews from past adopters on their websites.
Others might post on various review websites on the internet. Some online forums may exist where past adopters talk about their recommendations on various breeders or their adoption stories.
Some breeders also have social media where they interact publicly with past adopters. Here you can see past adopters post updates about their puppies and how they are doing currently.
Aside from looking at reviews, social media, and forums can be really great places to learn more from people who already own the breed.
You can ask for tips and tricks or just be a silent observer, keep an eye out for recommendations, and learn about what has worked well for other owners.

Closing Thoughts on Finding a Reputable French Bulldog Breeder
Finding a reputable French Bulldog Breeder is essential for anyone who is dedicated to welcoming an ethically bred French Bulldog.
Plenty of French Bulldog breeders are out there today, but some are certainly better than others!
Look for breeders with websites that have been designed with care, ask breeders plenty of questions, and make sure they are interested in asking you questions as well.
Breeders should care about where their puppies are going! Look for breeders with an adoption or purchase contract. Finally, look for reviews from other adopters, and trust your own gut instinct! 
FAQs – Reputable French Bulldog Breeders
Why is it important to choose a reputable French Bulldog breeder?
Choosing a reputable French Bulldog breeder is important because they prioritize the health and well-being of the dogs, ensuring responsible breeding practices and reducing the risk of health issues or behavioral problems in the puppies.
What are ethical breeders?
Ethical breeders are individuals who prioritize the welfare of the dogs over profit. They adhere to responsible breeding practices, provide proper care, socialization, and health screenings for the dogs, and prioritize finding suitable homes for their puppies.
What are the signs of puppy farms and scammers?
Signs of puppy farms and scammers include unusually low prices, lack of proper health and vaccination records, unwillingness to provide information about the parents or the breeding facility, numerous available breeds or multiple litters at the same time, and insistence on quick transactions without a thorough screening of potential buyers.