In recent years, French Bulldogs have gained immense popularity among celebrities for their easy-going nature and charming looks.
Celebrities like Lady Gaga, Zac Efron, and Vanessa Hudgens have these adorable canines in their families, so it's no wonder that Frenchies are so expensive.
These celebrities often take their beloved Frenchies on the red carpet to high-profile events, giving them massive exposure worldwide.
If you are curious about which of your favorite celebrities have joined the French Bulldog craze, you need not look any further.
In this article, we'll take a closer look at some of the biggest celebrities who own French bulldogs and find out why these furry companions have become such a beloved part of their lives.
Celebrities with French Bulldogs
Here is a list of 20+ celebrities who own a French Bulldog:
Michael Phelps
Michael Phelps, the most decorated Olympian of all time, welcomed a French Bulldog in 2012 named Juno.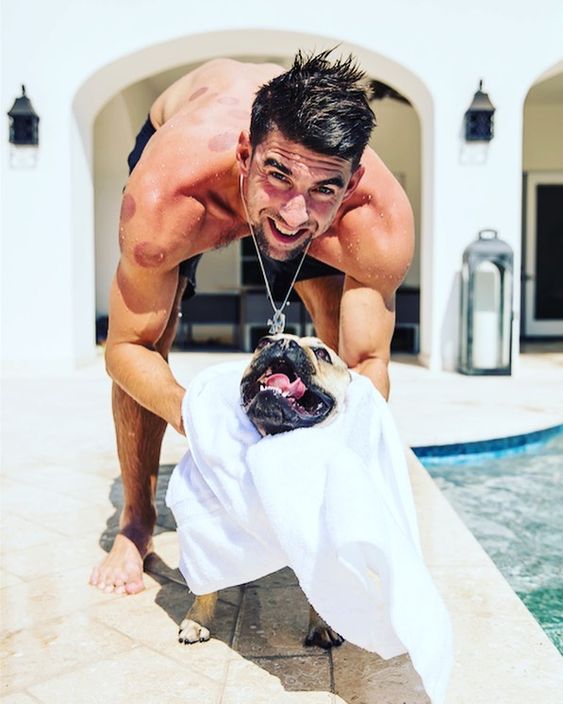 He also adopted a second Frenchie in 2020 and nicknamed him Legend. The two little bulldogs have charmed into Phelps' heart, and he takes them everywhere.
Eli Roth
Eli Roth is a big French Bulldog lover. He has a Frenchie named Monkey. They're inseparable companions, and Eli often takes Monkey on exciting adventures.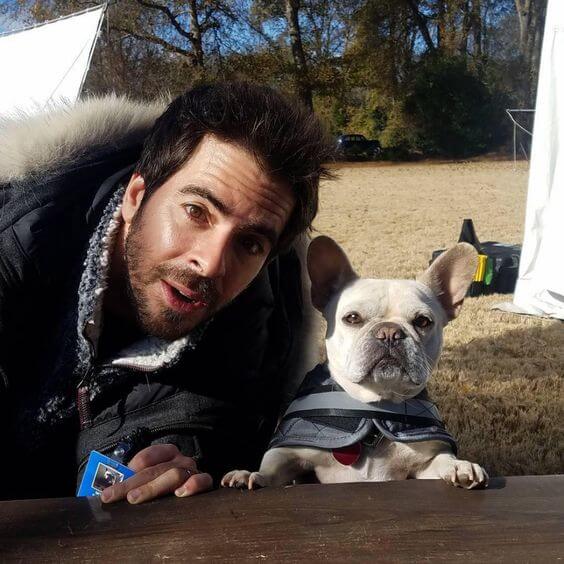 He accompanies Eli on all his trips and even attends interviews with him, demonstrating his unwavering loyalty and devotion.
Kris Allen
Kris Allen, an American singer, and winner of the eighth season of American Idol, adopted a French Bulldog in 2014. He named his pup Zorro.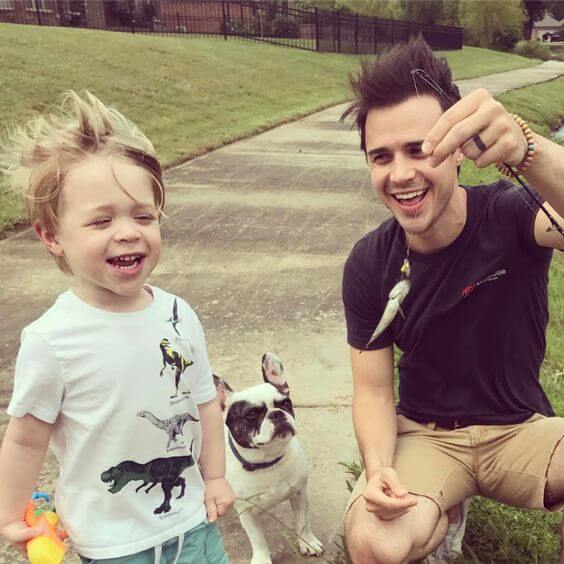 Zorro is a beloved family member and often appears on social media with his special and unique looks! He loves going on adventures with Kris and meeting new people.
2 Chainz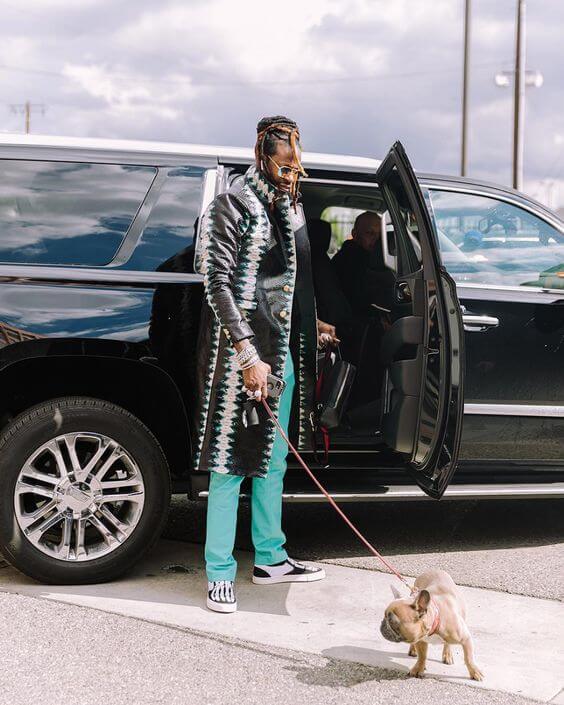 2 Chainz is a well-known hip-hop artist and the CEO of The Real University. He owns a French Bulldog called Trappy, who loves to travel with 2 Chainz when he is on tour.
Tom Hardy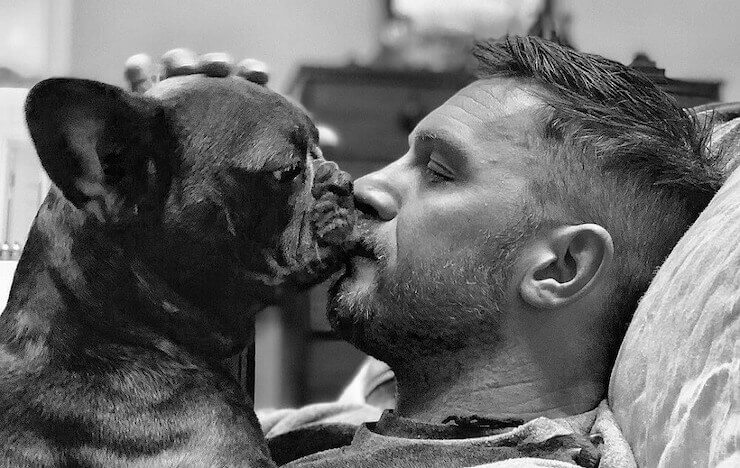 "Venom" actor Tom Hardy owns a French Bulldog named Blue, who accompanies him during interviews, movie premieres, and on the set of his productions.
Snoop Dogg
The West Coast rapper Snoop Dogg has been an avid fan of French Bulldogs for many years. He recently welcomed a Frenchie puppy into his family and named him Juelz!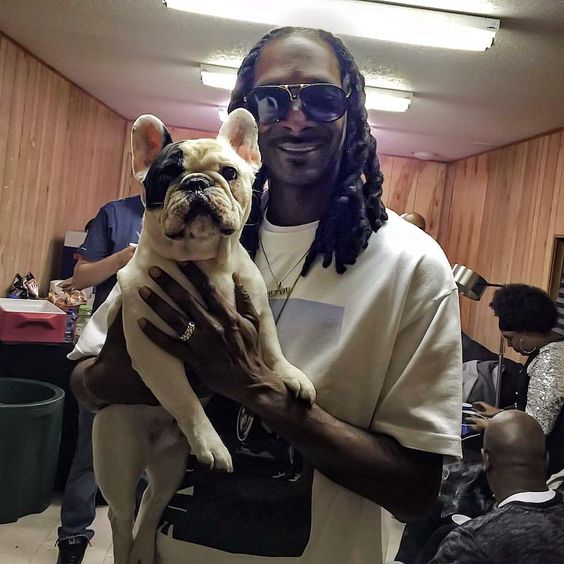 Snoop often posts pictures of his beloved pup on social media and celebrates every milestone, like first birthdays and other special occasions with Juelz.
Lady Gaga
The Pop icon Lady Gaga owns a French Bulldog called Koji. Gaga once said that she chose Koji because it is a Japanese word meaning "little one" or "happiness."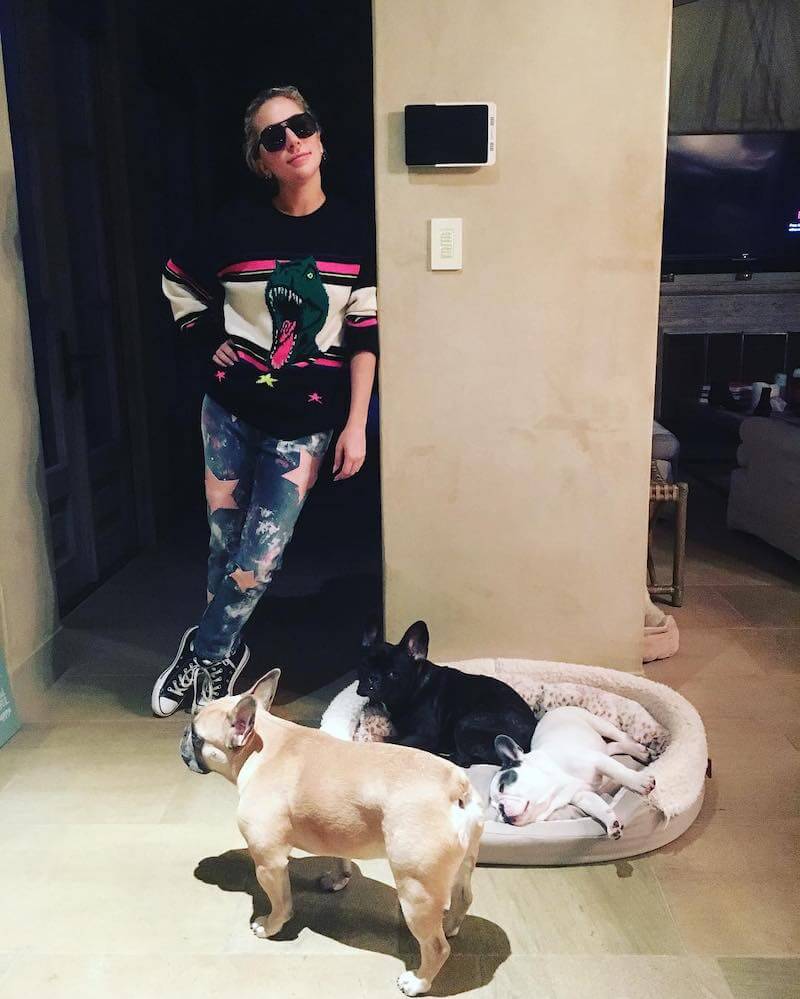 Koji is often seen with Lady Gaga on her travels, allowing fans to see Gaga and her beloved pooch.
Hilary Duff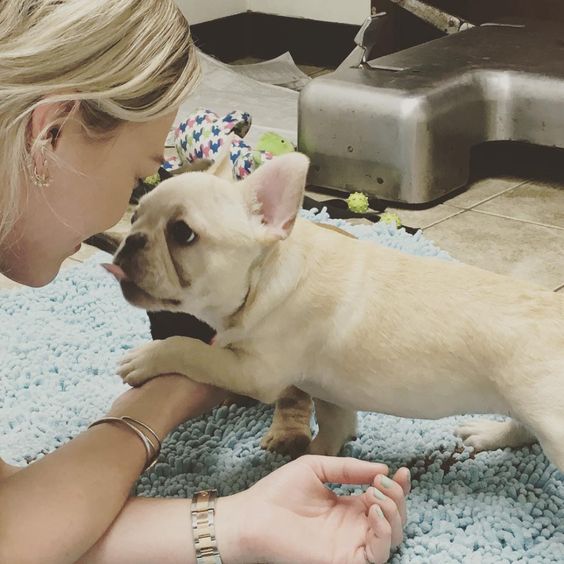 Hillary is the proud owner of a French Bulldog named Peaches, whom she adopted in 2016. She is a doting Frenchie parent and often posts pictures with her furry companion on social media, including images of them going for long walks together.
John Legend
John Legend, the award-winning singer and songwriter, owns a French Bulldog named Pippa. The couple purchased her from an animal rescue in 2019.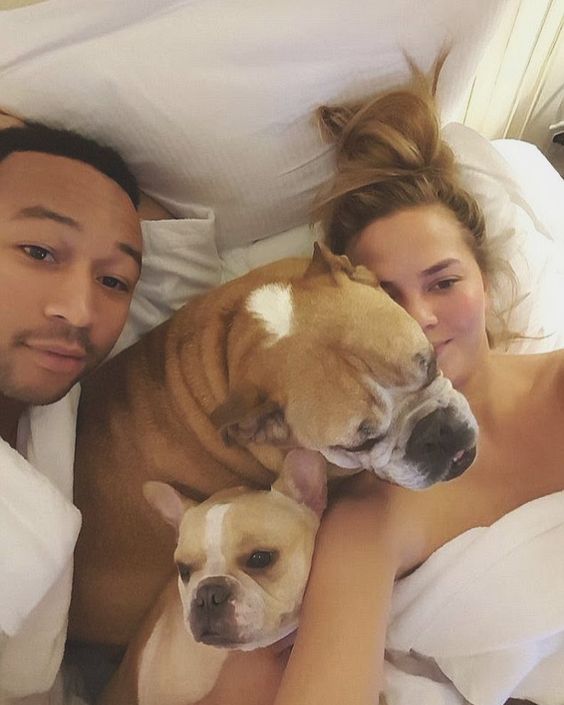 She has accompanied them to their Los Angeles, California home. She is a lovable pup with a naughty side, often getting into trouble with her favorite toys.
Legend has shared several pictures of the dog on his social media accounts, where he affectionately refers to her as "Pip."
Rachel Bilson
Rachel Bilson has a French Bulldog named Thurman Murman, who she adopted from a shelter in 2011.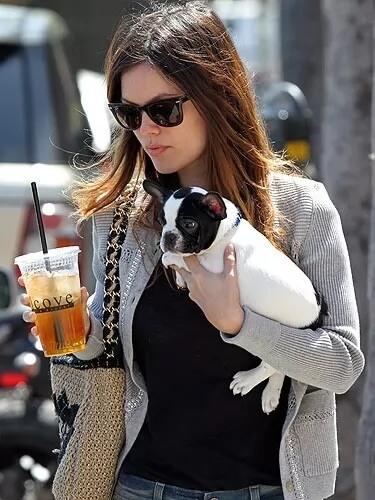 She often posts pictures of her pup on social media, showing off his goofy personality. Rachel Bilson loves Thurman Murman, and they have often seen cuddling.
Jack Osbourne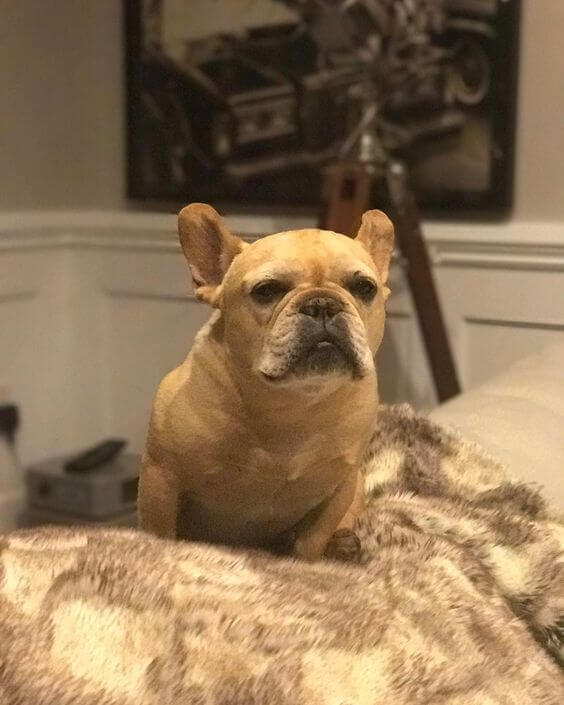 Jack Osbourne owns a fawn Frenchie boy named Bruce, whom he affectionately calls his "ride-or-die homie." He enjoys spending quality time with Bruce and even posts pictures of them together on social media.
Dwayne Johnson
One of America's most beloved actors and former professional wrestlers, The Rock owns a French Bulldog named Hobbs & Brutus.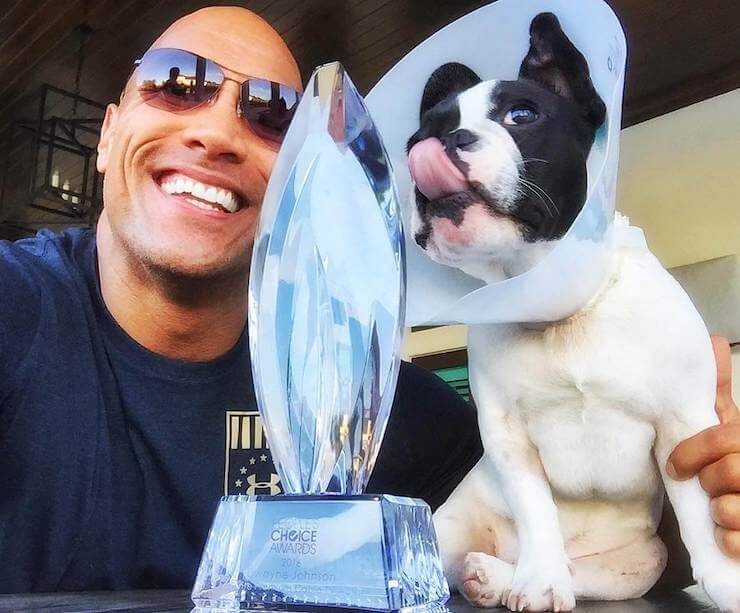 Sadly, Brutus passed away in 2015. However, Hobbs is still alive and well, often accompanying The Rock on his daily adventures.
Megan Thee Stallion
Texas-born rap star Thee Stallion owns a French Bulldog called 4oe (Foe) Thee Frenchie.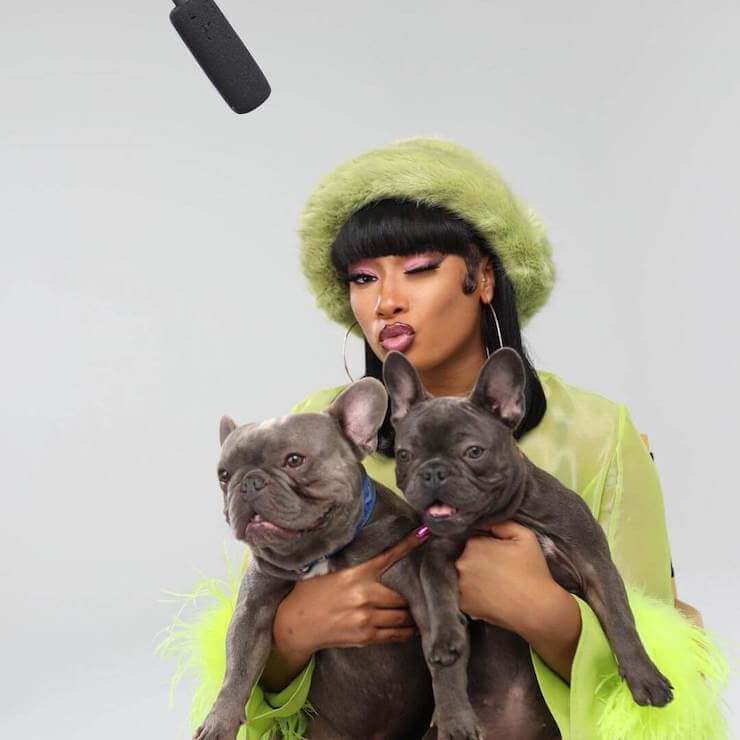 Megan often shares photos and videos of her furry companion on Instagram. She chose the name '4oe' as it symbolizes four elements in astrology – Earth, Wind, Fire, and Water.
She also has an affinity for French Bulldogs, having another pet Frenchie named Marley La Flame, who she adopted from a rescue in 2019.
Hugh Jackman
Hugh Michael Jackman AC, best known for playing Wolverine in the "X-Men" film franchise, is the proud owner of a French Bulldog named Dali.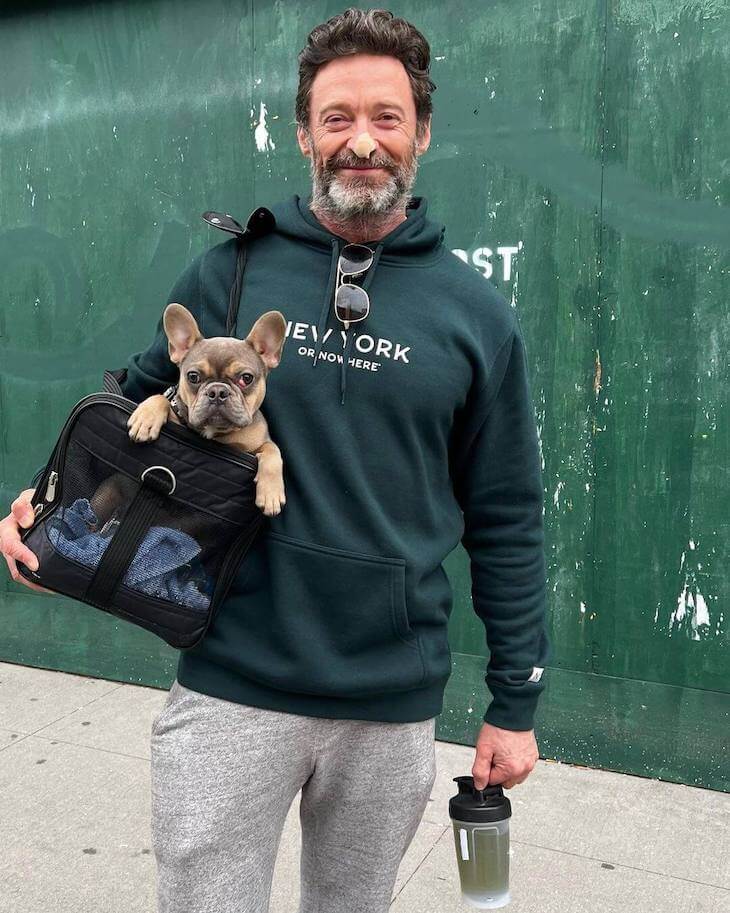 He often posts adorable pictures and videos of his pup on social media, enjoying swimming, running, and playing with the family's other dogs.
Jackman loves to take his French Bulldog out for walks around the neighborhood and even takes him on vacation with the family!
Taraji P Henson
Taraji Penda Henson, the American actress, has a French Bulldog named K-Ball. She brings K-Ball to red-carpet events as her plus-one and shares update about his daily life, such as his love of chasing squirrels!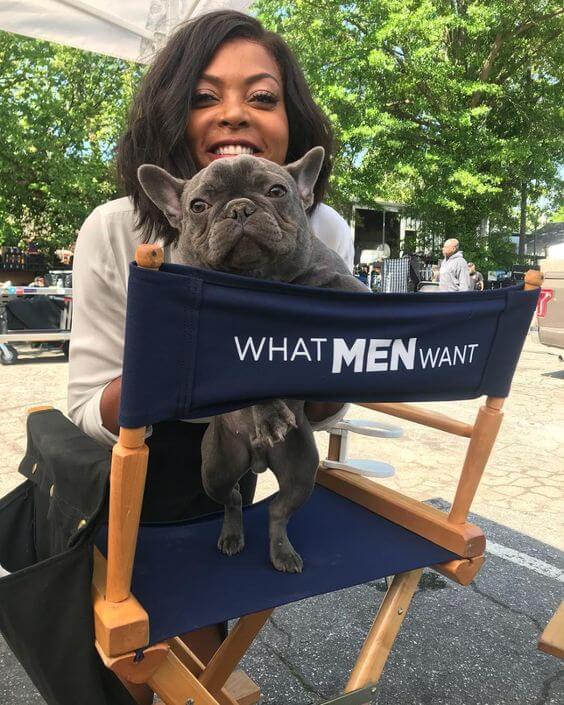 Henson loves to show off her puppy's playful personality and cheeky grin on social media. He is an adorable pup that will brighten up anyone's day.
Reese Witherspoon
Reese Witherspoon is an American actress who adopted a French Bulldog in 2016. She named him Minnie, and the pair are often spotted running errands or enjoying downtime together.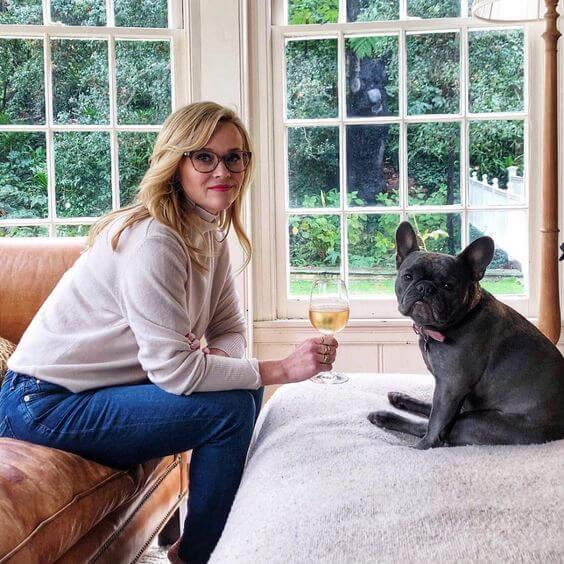 The adorable pup has brought great joy to Witherspoon's family, and her two children usually take turns cuddling with him.
Minnie is a constant companion to Reese Witherspoon, and the duo can often be seen hitting up red-carpet events or having fun in the park.
Zach Braff
Zach Braff, best known for portraying "J.D. Dorian," owns a French Bulldog named Scooter, who accompanies him to film sets and red carpets!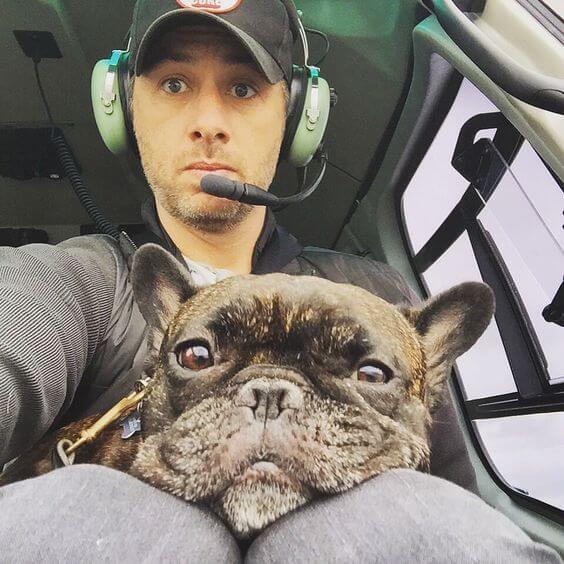 Scooter often takes part in photoshoots with Braff, appears in some of his films, and is a beloved member of the Braff family.
Reagan Agee
Reagan Agee, the reality TV star, has a beautiful little French Bulldog named Blu that stole her heart.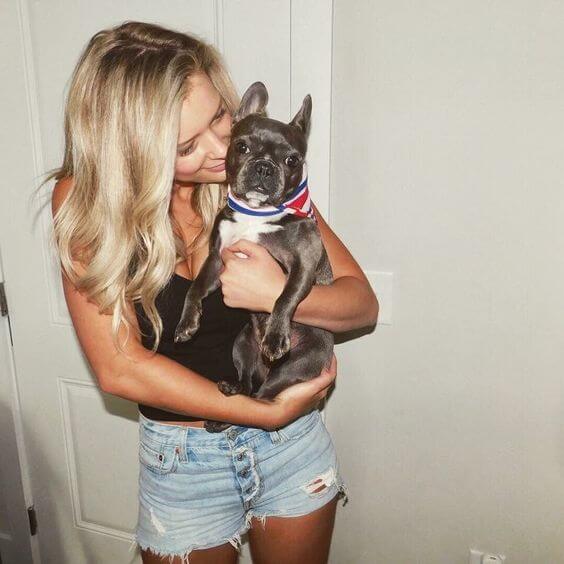 Blu's name likely came from his blue coat, and Reagan probably sought inspiration when selecting his name.
Blu has been accompanying Reagan on her adventures and is a lovable companion.
Dieter Schmitz
Dieter Schmitz and his wife Isabell have a French Bulldog named Wellington, who loves to join them on hikes and trips to the beach.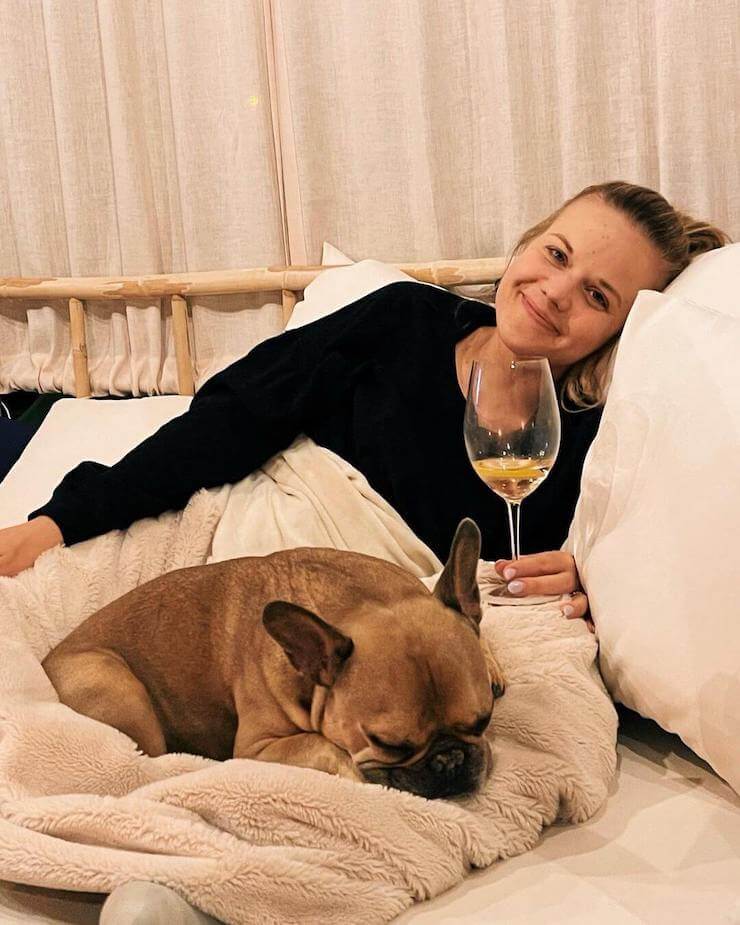 You can often see this cute Frenchie in photos with Dieter and Isabell, always wearing a festive bandana! Wellington has been a great source of joy for Dieter and his wife, Isabell, and their furry friend smites them.
Martha Stewart
Martha Stewart, the TV personality, owns two French Bulldogs named Creme Brulee and Bette Noir.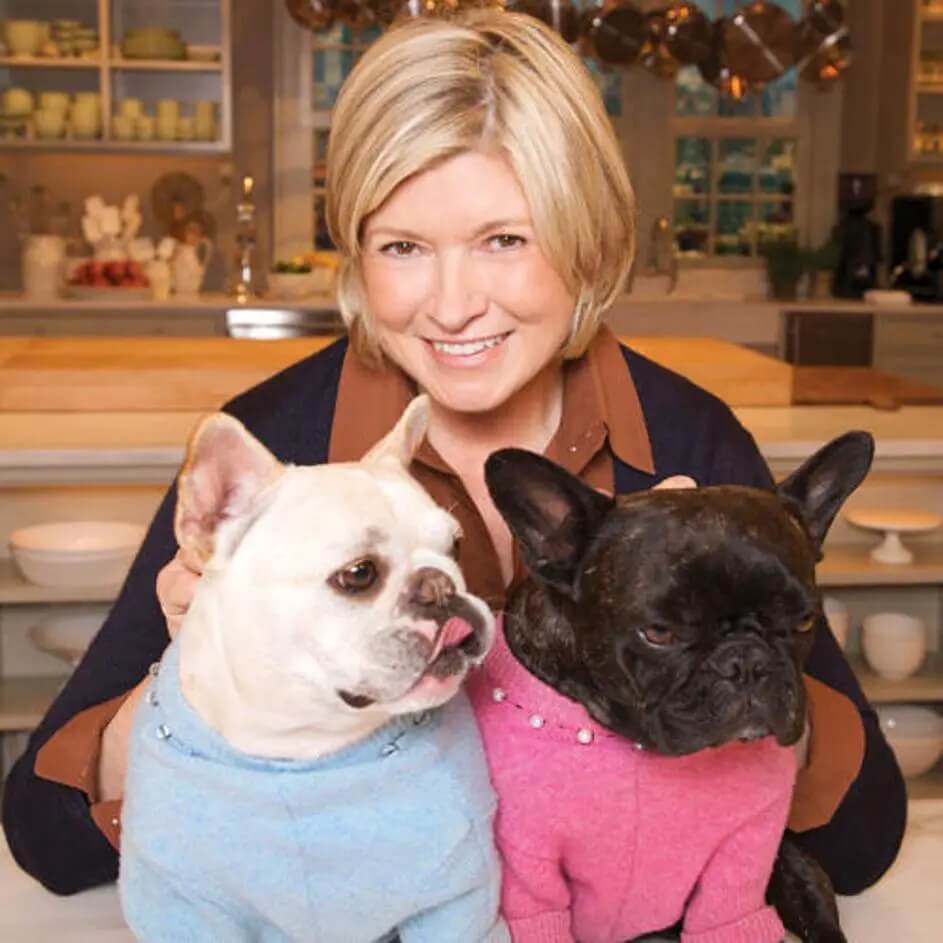 The two cuties often accompany Martha on her travels around the world. They are also featured in her social media posts, giving her fans a glimpse into her life.
Martha is a passionate Frenchie lover and has even penned down her love for her two fur babies in a book.
Eva Longoria
The beloved American actress Eva Longoria Bastón owns a French Bulldog called Popeye.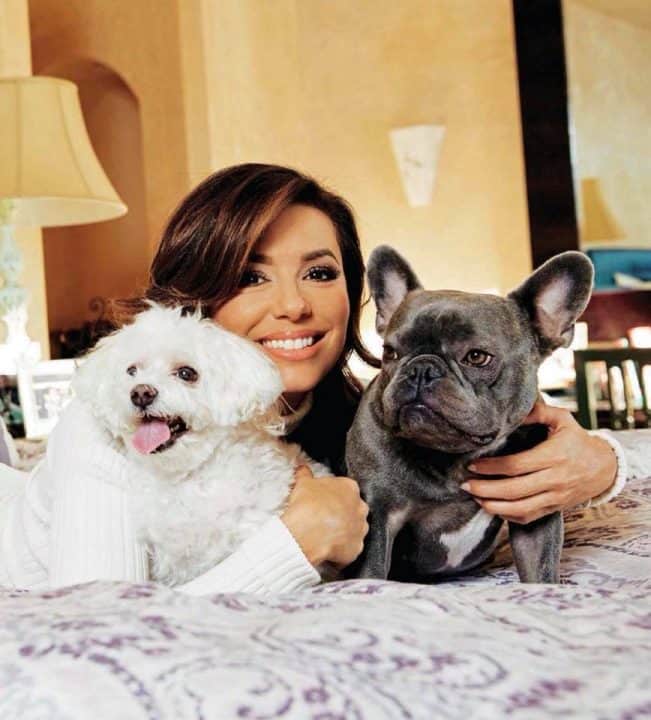 On Instagram, as she travels around the world for her projects, people often see Eva snuggling up with Popeye in her arms.
He is a loyal pup and loves playing with his toys and cuddling up with Longoria to watch movies.
Wiz Khalifa
Wiz Khalifa, the American rapper and actor, adopted a French Bulldog in 2009. He named the dog Vincent after one of his favorite songs.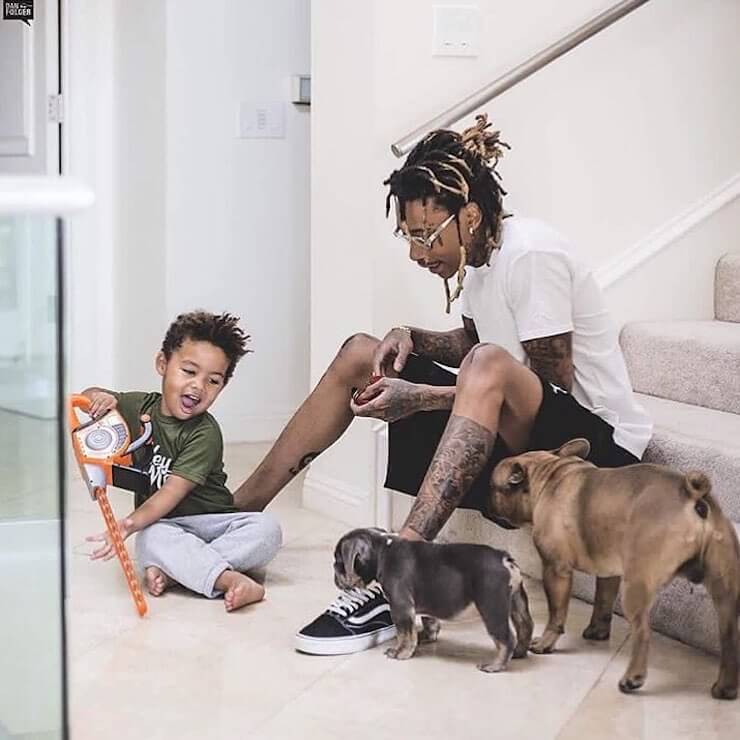 The pup has appeared in some of Wiz's music videos and is regularly featured on his social media accounts.
Vincent loves being around people and loves traveling with Wiz so he can be a part of all his adventures! He is an affectionate and loyal companion, always happy to follow Wiz.
Wrap-Up: Celebrities with French Bulldogs
It's clear that French Bulldogs have a special place in the hearts of many celebrities, from Hollywood A-listers to social media influencers.
Whether it's their adorable looks, affectionate personalities, or ability to make people laugh, Frenchies can steal the spotlight wherever they go.
As we've seen from the celebrities on this list, owning a Frenchie can bring a lot of joy and companionship into your life.
But it's important to remember that these dogs have unique health needs that require proper care and attention.
Whether you're a celebrity or not, if you're considering adding a Frenchie to your family, be sure to do your research and choose a reputable breeder who prioritizes the health and well-being of their dogs.
With the right care and love, a Frenchie can be a loyal and cherished companion for many years to come.