As a small-medium breed, the question on many Frenchie owners' minds is, what's the best dog food for French Bulldogs?
While they may be low-maintenance when it comes to coat care and exercise requirements, their nutritional needs require careful consideration.
Providing your Frenchie with a high-quality and balanced diet is essential for maintaining healthy body weight and reducing the risk of certain health conditions.
In this article, we will look at the nutritional needs of French Bulldogs and provide our food recommendations based on the age of your French bulldog.

Nutritional Needs For French Bulldogs
French Bulldogs have different nutritional requirements than other breeds due to their smaller size and unique anatomy.
The best French Bulldog food will depend on the age of your Frenchie, as French bulldog puppies, adults, and seniors have different nutritional needs.
Puppies require more protein and calories to support their growth and development. They also need a higher ratio of calcium and phosphorus to help their bones and teeth develop correctly.
Adult French bulldogs require a balanced diet with the proper nutrients to maintain their body weight and energy levels. Their dietary requirements differ from those of puppies as they have already developed their bones and muscles.
Senior French bulldogs require fewer calories, but their diets need to include more nutrients to help maintain their joint health, which may become weaker with age. They may also require more fiber to help with digestion, as senior Frenchies are prone to constipation.
Here's an overview of the three life stages of a French Bulldog:
| Life Stage | Age |
| --- | --- |
| Puppy | Under 12 months |
| Adult | Over 12 months |
| Senior | 10+ years |
By following these life stages, you can avoid common mistakes people make when feeding their French Bulldogs.

Best Dog Food for French Bulldogs
Choosing the best dog food for French Bulldogs can be a challenging task due to their unique size. They're bigger than small breeds but smaller than medium breeds.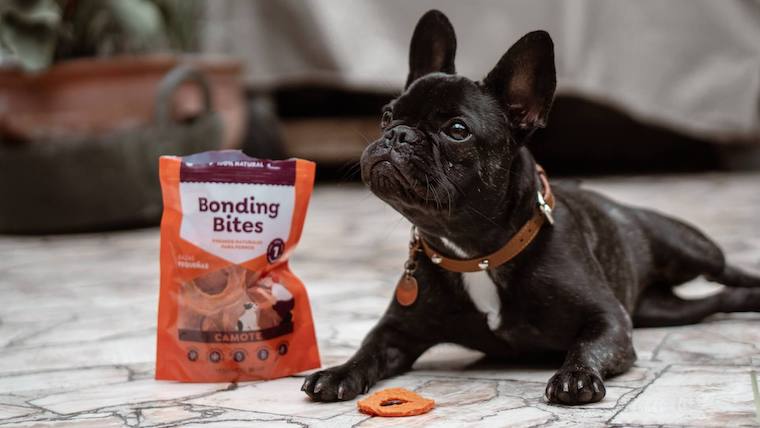 To assist you in making the best choice for your French Bulldog's diet, we've put together a list of top-rated small-breed and all-breed formulas.
Our recommendations include options for puppies, adult dogs, and even senior dogs with special dietary requirements.
The Honest Kitchen Grain-Free Dehydrated Dog Food
This grain-free recipe is made from wholesome ingredients, like chicken, flaxseed, potatoes, sweet potatoes, and apples.
It's packed with essential vitamins and minerals to provide your French Bulldog with all the nutrition he needs for a healthy life.
The dehydrated formula makes it easy to prepare delicious and nutritious meals. Honest Kitchen provides a variety of flavors to choose from, so you can find one your dog loves.
This food is ideal for French Bulldog puppies, as it contains all the nutrition they need to grow and develop properly. Also, its grain-free formula is great for Frenchies who have sensitive stomachs.  
Pros:
Human-grade ingredients
Grain-free
Dehydrated food
Cons:
Pricier than other foods
Additional preparation and hydration time.
Purina Pro Plan Shredded Blend Small Breed Dog Food
This Purina Pro formula is a great choice for adult French Bulldogs, as it contains high amounts of protein and fat essential for their development.
It also features a blend of chicken, rice, poultry-by-product meal, beef fat, corn meal, and soybean meal – all ingredients that provide the nutrients they need to stay healthy and active.
Purina Pro Plan is also specially formulated for smaller breeds so that it will go down well with your French Bulldog.
The kibble is small enough for their little mouths, and it's packed with flavor, too. This is a high-quality food for French Bulldogs that your pup will love.
Pros:
High-quality protein
Boost immune system
Made to be more easily digestible
Cons:
Contains grains
Not ideal for French Bulldogs who are overweight or prone to weight gain.
Blue Buffalo Wilderness Puppy Chicken Dog Food
This protein-rich recipe is specifically formulated for puppies, including French Bulldogs. It contains deboned chicken as the main ingredient.
This provides premium protein and essential amino acids to help your pup grow strong and healthy bones.
Other ingredients include Pea Protein, Chicken Meal, Chicken Fat, Flaxseed, and more. All these ingredients work together to provide a balanced formula that is nutritious and delicious.
Blue Buffalo uses natural preservatives and is free from high fructose corn syrup, artificial colors, and flavors. So you can be sure your Frenchie gets the best quality food.
Pros:
Protein-rich
Grain-free and gluten-free
Natural ingredients
Cons:
Higher fat content
Pricier than other foods
VICTOR Senior Healthy Weight Dry Dog Food
This formula is specifically designed for older French Bulldogs and contains all the nutrients they need while being low in fat.
It includes a beef meal, whole brown rice, menhaden fish meal, chicken fat, peas, and other high-quality ingredients that provide your dog with balanced nutrition without excessive calories.
VICTOR Senior Healthy Weight formula is formulated to help maintain proper weight and prevent obesity while providing essential nutrition.
The formula also contains probiotics to help support healthy digestion. This formula is perfect for senior French Bulldogs and a great option for any adult dog looking to maintain a healthy weight.
Pros:
Great for senior dogs
Support joint health
High-quality protein
Cons:
Contains grains
Not the best option for puppies
Whole Earth Farms Red Meat Canned Dog Food
This grain-free wet dog food is made with real beef and beef broth as the first two ingredients, along with beef liver, lamb, pork liver, and sweet potatoes.
It contains healthy omega fatty acids from canola oil to help support skin and coat health. Plus, it is fortified with vitamins and minerals for complete nutrition.
The small bite-sized chunks make it easy for them to chew and digest. This formula is suitable for all life stages and can be used throughout a French Bulldog's lifetime.
Your Frenchie will enjoy the meaty flavor; you can feel confident knowing it provides them with all the nutrition they need.
Pros:
High-quality protein
Grain-free and gluten-free
Natural ingredients
Cons:
Pricier than other foods
High moisture content
Blue Buffalo Life Protection Healthy Weight Dog Food
Blue Buffalo is specifically formulated for small breeds. It contains deboned lamb as the first ingredient, potatoes, pea starch, lamb meal, and canola oil.
These ingredients provide excellent protein and healthy fats to support muscle growth and keep your pup active.
This food has few fillers and no artificial colors, flavors, or preservatives. Blue Buffalo Life Protection Healthy Weight is a great option for French Bulldogs.
This formula also provides added health benefits, such as improved digestion and a healthy coat and skin.
Pros:
Great for Frenchies who are prone to weight gain
High-quality protein
Promotes a healthy immune system
Cons:
Contain grains
Pricier than other foods
Nulo Freestyle Grain-Free Adult
Fresh salmon, turkey, and menhaden fish meal provide the majority of the meat protein in this Nulo Freestyle formula.
It also contains chickpeas, chicken fat, sweet potato, yellow peas, and other wholesome ingredients to provide your French Bulldog with all the essential nutrients he deserves.
Plus, it's rich in omega fatty acids, which can help keep your pup's skin and coat healthy. The recipe is free of grains, soy, corn, and fillers to help avoid any potential allergies.
Also, it has added probiotics for better digestion and anti-oxidants to help boost the immune system.
Pros:
Grain-free
High-quality protein
Boost immune system
Promote healthy skin and coat
Cons:

What to Look for in the Best Dog Food for French Bulldogs
When looking for the best dog food for French Bulldogs, here are some important factors to consider:
Lean protein: Look for dog food that contains high-quality animal-based protein sources, such as chicken, turkey, fish, or lamb, as the first ingredient.
Low-to-moderate fat content: French Bulldogs are prone to obesity, so look for dog food that contains moderate fat content to support their energy needs without overfeeding them.
Limited fillers and additives: Avoid dog foods that contain fillers, artificial colors, flavors, and preservatives, as they can trigger allergies and digestive issues in Frenchies.
Balanced nutritional profile: Ensure the dog food has a balanced nutritional profile, with appropriate protein, fat, fiber, vitamins, and minerals to support your Frenchie's overall health.
Easily digestible ingredients: French Bulldogs are prone to digestive issues, so choose a dog food that contains easily digestible ingredients such as rice, oatmeal, or sweet potatoes.
The best to meet your French Bulldog's basic needs for calories and nutrition is by feeding him high-quality dog food formulated for small breeds.
Keep an eye on your dog's weight and condition, and make adjustments to their diet if they become overweight.

Wrap-Up: Best French Bulldog Food
The best food for French Bulldogs should contain natural proteins rather than animal by-products and healthy grains instead of fillers.
While French Bulldogs are not known for being picky eaters, their sensitive stomachs require careful consideration when selecting from the available options on the market.
Avoid ingredients that your Frenchie cannot tolerate, and select a balanced and healthy diet that supports their overall well-being.
By providing your French Bulldog with the right nutrition, you'll enjoy a happy, playful, and lively companion.
We hope our article has provided valuable insights into the best food options for French Bulldogs and helped you make an informed decision for your furry friend.
Please feel free to share your thoughts and experiences in the comments section below.
FAQs on French Bulldog Foods
Can French Bulldogs eat rice? 
Yes, they can. Rice is an important ingredient in many commercial dog foods and can provide essential nutrients such as carbohydrates, amino acids, fatty acids, and vitamins. Other beneficial ingredients commonly found in commercial dog food made with rice include chicken, poultry by-product meal, beef fat, corn, and soybean meal. These high-quality ingredients help ensure your French Bulldog receives the balanced nutrition they need to stay healthy and happy.
Can French bulldogs eat eggs? 
Yes, eggs can be a part of a balanced diet for French bulldogs. However, ensure that the eggs are only given to French bulldogs in moderation. Too much can lead to digestive issues and potential allergic reactions due to the high-fat content of egg whites. Be sure to boil or scramble eggs before serving them to your pup, as raw eggs can contain salmonella. Overall, it is safe for French bulldogs to eat cooked eggs in moderation as part of a balanced diet. 

Are French Bulldogs allergic to chicken? 
Although French Bulldogs aren't particularly prone to food allergies, it's possible that chicken could be a trigger. To ensure your pet gets the nutrition they need while avoiding potential allergens, try looking for dog foods with limited ingredients like beef or fish. This way, you can be sure your pup gets the right amount of protein without worrying about any unexpected reactions. Plus, limited-ingredient diets support healthy gut flora and digestive health.