As a brachycephalic dog breed, French Bulldogs get cold during wintertime as they can't regulate their body temperatures.
But don't worry. With the right precautions and a bit of extra care, your Frenchie can stay cozy and warm throughout the frigid months.
We explain why Frenchies get cold, how you can keep them warm in winter, and what safety tips you need to take to ensure their health and comfort.
In this guide:
Can French Bulldogs Tolerate Cold Weather?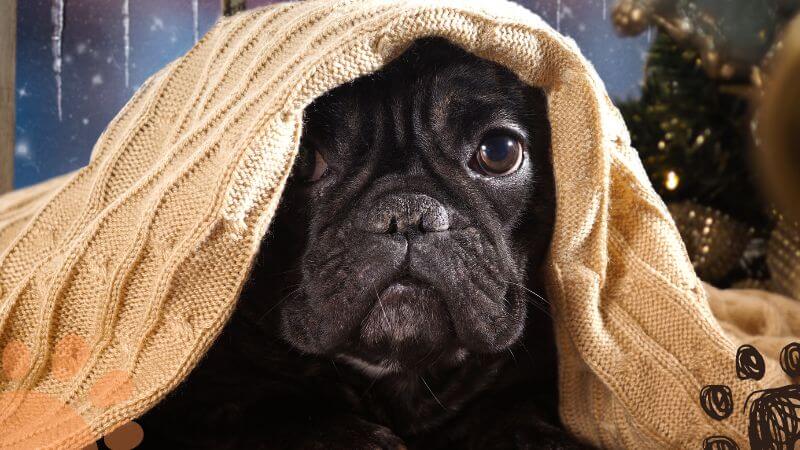 French Bulldog cannot tolerate cold weather because of three main reasons:
Frenchies have a short, single-layered coat, which provides little insulation against the cold.
Their small size and low body fat make it harder for them to regulate their body temperature in chilly environments.
Their brachycephalic (short-nosed) faces also contribute to their cold intolerance since they have a harder time warming the air they breathe before it enters their lungs.
These factors make French Bulldogs more susceptible to hypothermia (more on that below), which can lead to serious health issues if not addressed promptly.
These same factors also make French Bulldogs prone to overheat during hot weather. You can learn more about how to cool down your Frenchie in the summer.
How to Know Your Frenchie Is Cold
When it comes to recognizing if your French Bulldog is cold, there are a few telltale signs that you should be aware of.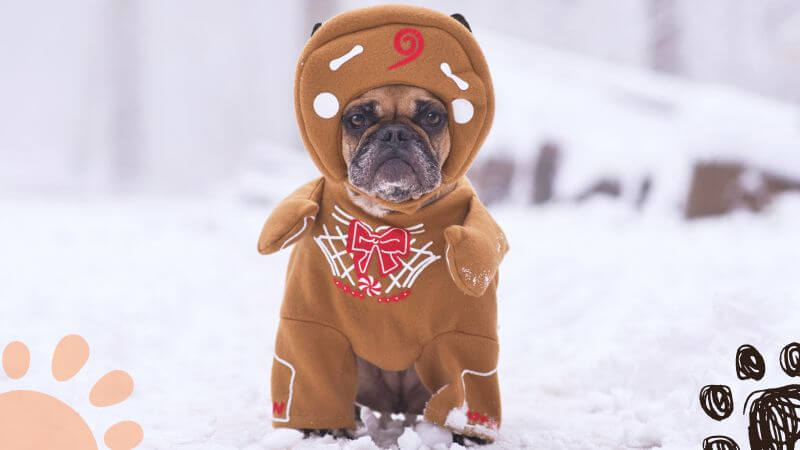 Let's take a look at some of the signs when your Frenchie is cold:
Cold nose and ears
Shivering
Spooning
Huddling
Seeking warmth
Watch for shivering, whining, seeking warmth, curled-up posture, or slow movements; these are signs that your French bulldog might be cold.
Cold Nose and Ears
If your French Bulldog's nose and ears feel cold to the touch, it can indicate that they may be too chilly. These areas of their body lose heat faster than other parts due to thinner skin and fur.
Shivering
Another common sign of a French Bulldog feeling cold is if they start to shiver. While some dogs may naturally shiver due to anxiety or excitement, if the shivering persists, it could be a sign that your pup needs more Warmth.
Spooning
When a French Bulldog is cold, it may curl up and spoon with another dog or person to keep warm.
If you notice your pup curling up close to another animal or human, it could be a sign that they are looking for some extra warmth.
Huddling
If your Frenchie is cold, they may try to huddle against walls and furniture. This behavior indicates that they are trying to get closer to a source of Warmth to keep themselves comfortable.
Seeking Warmth
Lastly, if your French Bulldog is cold, it may seek out warm areas such as laps, blankets, and heating pads.
If you notice your pup doing this, it can indicate that they feel chilled and need extra Warmth.
By watching for these signs, you can ensure your French Bulldog stays warm and comfortable all year round.
If you notice these behaviors, take the necessary steps to provide your pup with extra Warmth and insulation.
How Cold is Too Cold for a French Bulldog?
Any temperature below 40°F (4°C) is too cold for a French Bulldog. This is because their bellies are closer to the ground, making it easier for them to pick up the cold.
Letting your Frenchie for too long in the cold can lead to hypothermia. So, it's important to observe your French Bulldog's body language for signs of hypothermia, such as:
Shivering
Lifting legs
Standing in a hunched position
Whining
Barking
More severe symptoms of hypothermia include:
Slowed breathing
Decreased heart rate
Lethargy
Weakness
Temperatures of 40°F (4°C) are too cold for a French Bulldog, especially if you have an older Frenchie, a younger puppy, or a Frenchie with medical problems.
As French Bulldogs' body temperatures can decrease faster in snowy conditions, it's best to limit their walks to 15 minutes and only allow them outside to eliminate when the temperature is below 0°C.
Windy weather can also make it feel colder than it is, and you should keep this in mind when deciding how cold it is for your French Bulldog.
Older dogs and puppies are even more sensitive to the cold, so extra care should be taken to keep them warm.
If you have a French Bulldog that suffers from arthritis, note that the cold may worsen their symptoms.
The infographic below illustrates the temperature ranges that your French Bulldog should be comfortable at.
Your French Bulldog is most vulnerable to cold in the red to orange ranges – this is when the risk of health problems increases.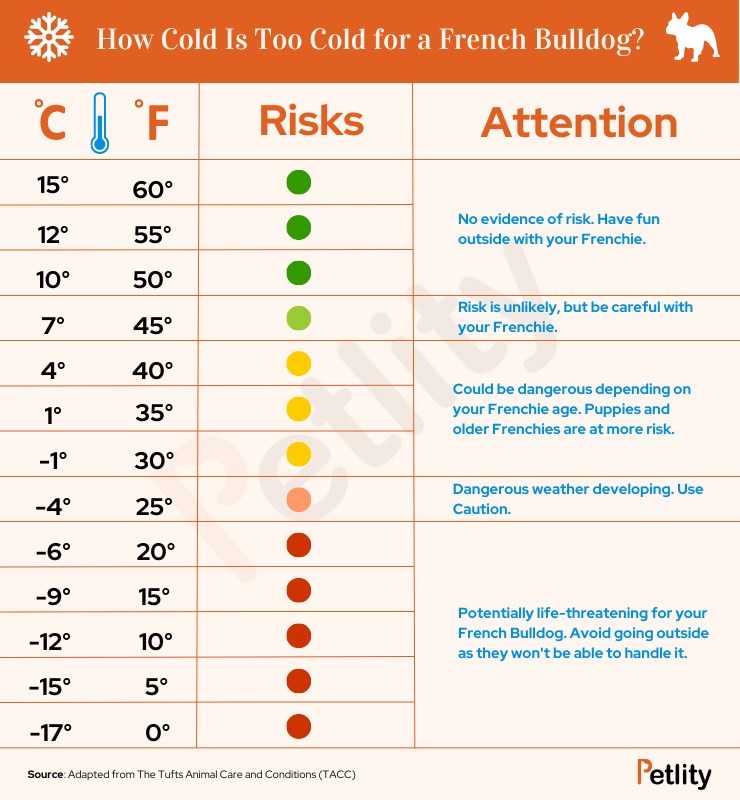 How to Keep Your French Bulldog Warm in Cold Weather
French Bulldogs are particularly vulnerable to cold weather due to their short snouts and small bodies.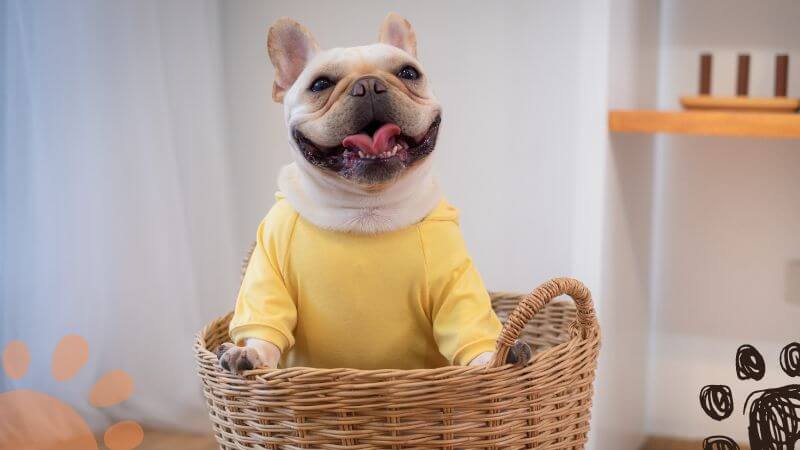 They can quickly become chilled if exposed to temperatures below 68°F (20°C). During winter, you should ensure your Frenchie stays warm and comfortable.
Here are a few tips for keeping your French Bulldog safe, healthy, and warm during winter months:
Provide Adequate Shelter
Ensuring your French Bulldog is safe and comfortable during cold weather starts with providing adequate shelter.
Invest in a warm, waterproof winter coat to protect your pup from the harsh elements.
If you live in an area where temperatures fall below freezing, consider investing in insulated outdoor dog houses or crates that provide extra warmth and protection from wind and snow.
Dress Your Frenchie Appropriately
Dressing your French Bulldog appropriately for cold weather can help them stay warm and comfortable.
Start by investing in a warm winter coat or sweater to protect them from the elements. If temperatures are freezing, consider adding a second layer of insulation with a fleece jacket.
Additionally, ensure that socks or earmuffs cover your pup's paws and ears to prevent frostbite.
Exercise Indoors
Exercise is essential for all dogs, but it's best to keep your Frenchie's exercise indoors during the winter months.
Cold weather can make them more susceptible to hypothermia and other cold-related illnesses. Additionally, ice and snow can make outdoor walks slippery and dangerous.
Look for indoor activities such as fetch games or tug-of-war that you can do inside with your pup. 
Limit outdoor time, provide warm bedding, and use clothing like sweaters or jackets to keep your French Bulldog warm during winter.
Provide Space Heaters
Space heaters can be a great way to keep your Frenchie warm during winter. Place the heater away from water and other combustible materials in your home.
Keep an eye on your pup while they are near the space heater, as Frenchies may not always recognize when things are too hot.
Grooming and Baths
Grooming is essential to keeping your French Bulldog healthy and comfortable during winter. Ensure you brush them regularly to remove mats or tangles from their coats and trim their nails.
Bathing should be done as needed, but avoid using hot water to bathe them. Cold water will help keep them from becoming chilled during the winter months.
Protect Their Paws
It's essential to check your French Bulldog's paws regularly during winter. Snow, salt, and other chemicals used to melt ice can dry out their paw pads and cause cracking.
Invest in a paw balm or salve to help keep them moisturized and protected from the elements. Additionally, ensure they wear appropriate winter boots when they go outside.
Stay Vigilant
It's important to stay vigilant and watch for signs of hypothermia or other cold-related illnesses in your French Bulldog.
If you notice any signs of distress, such as shivering, sluggish behavior, or loss of appetite, you must immediately bring them to the vet. Also, always wear an ID tag in case they get lost while outside.
Proper Nutrition
Proper nutrition is essential for all dogs, especially during cold winter when their bodies need extra energy to keep warm.
Look for foods high in protein and healthy fats, giving them the energy they need to stay warm. Additionally, look for food fortified with vitamins and minerals to help support a healthy immune system.
Need food recommendations? Check our guide for the best dog food for French Bulldogs.
Extra Treats
Giving your French Bulldog extra treats during cold weather can be fun to keep them happy and content. Look for particular winter treats rich in protein, such as frozen peanut butter or yogurt bites.
Additionally, you can give them pieces of cooked chicken or beef to help keep their energy levels up during the cold weather months.
Use Potty Training Pads
Potty training pads can be a great way to keep your French Bulldog from having accidents in the house during cold weather.
Place the pads near doorways and other areas they may frequent, and always clean them regularly.
Additionally, consider investing in an indoor litter box or dog toilet to give them a designated spot for potty time.
Use a Collar and Chip
Using a collar and microchip is essential to keeping your French Bulldog safe during the winter months.
A collar with an ID tag can help you locate them if they should get lost outdoors, and a microchip is an important safety measure in an emergency.
Regular vet checkups will also help ensure your pup stays healthy throughout the winter.
Don't Leave Your Frenchie in Your Car
Leaving your French Bulldog in a cold car during winter or at any time of year is not recommended, as it can be dangerous and life-threatening.
The frigid temperatures can lead to hypothermia, frostbite, and other serious health issues for your furry friend.
Follow Your Vet's Advice
Follow your vet's advice regarding keeping your French Bulldog safe during the winter months.
Your vet will be able to provide you with personalized advice and tips that are tailored to your Frenchie's specific needs.
Should French Bulldogs Wear Coats in the Winter?
French Bulldogs can benefit from wearing coats in winter, as their short coats do not provide much insulation.
Coats can help keep them warm and cozy outdoors, preventing hypothermia or other cold-related ailments.
With the right coat, your Frenchie can stay comfortable and happy even in colder climates or during winter months. So don't forget to bundle up your pup this season!
Can a French Bulldog Live Outside in Winter?
No, French Bulldogs should not live outside in any weather. They are bred to be indoor dogs and can easily succumb to heat exhaustion or hypothermia if they stay outdoors for long periods.
It is best to keep them inside with you at all times and only take them outside for short walks or playtime. Never leave a French Bulldog alone outside for extended periods.
Should I Cover My Frenchie with a Blanket at Night?
Yes, providing your dog with a blanket can help keep them warm and comfortable overnight.
Blankets provide insulation that helps retain body heat while providing a cushion between them and the hard ground or flooring.
Additionally, blankets are an easy way to create a cozy and inviting sleeping space for your pup.
Do French Bulldogs Get Cold at Night?
French Bulldogs do get cold at night due to their brachycephalic skull and short coat.
That's why you should provide them with warm bedding, such as a heated blanket in colder climates and extra layers of clothing during the winter months.
In addition, they should not be left outdoors for extended periods, especially at night. With the proper care, your French Bulldog can enjoy a cozy and comfortable night with you!
Keeping Your Frenchie Warm During Winter
We hope you've found our French Bulldog winter guide helpful, especially if you own a Frenchie or are considering getting one.
Owning a Frenchie has its pros and cons, and their intolerance to cold weather is definitely a drawback to keep in mind.
That's why it's important to be cautious during the winter months, as Frenchies can struggle with cold weather conditions.
If you have any feedback or questions, then please don't hesitate to leave a comment below.